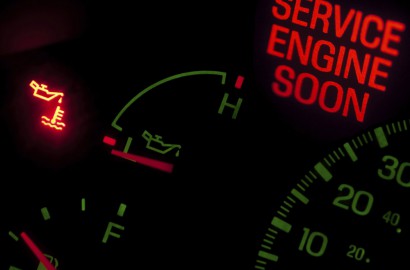 There you are, driving down the highway without a care, when suddenly a light comes on in your dash!  "Service Engine Now", or "Check Engine" is what is says, but just how important is it to get this checked out?
When that light comes on, it means that a significant change has happened to create a malfunction in an engine operating system. By storing codes, the Engine Control System computer (ECS) will tell your technician exactly what component was bad, and the operating conditions at the time of the fault.
At Tilden Car Care Center, we have the latest equipment needed to pull the codes from your computer and assess the problem. We can diagnose and repair any "check engine" condition, and have the expertise and equipment needed to say LIGHTS OUT to this issue!  Call us as soon as a light appears, as some problems if left too long could cause severe engine damage!
At Tilden Car Care Center; your complete automotive care center we have all your repair and maintenance needs covered. We have three locations to serve you around the Fort Worth, TX area including one in White Settlement, TX. We install only quality replacement parts. Give us a call at any of our three locations. Are you wondering which location is most convenient? Call (817) 246-4100 we can help you find the location that is right for you. Let us help keep you safely and economically on the road. We service all makes and models and offer free shuttle services.